At this angle you get to capture the off-setting of the floors as they rotatingly rest on each other- ridding the mundane look of a simple rectangular structure- viewing both the Front & Side Entrance of the Ground level. The red door faces the Ocean and leads unto the wrap-around porch that steps down unto the sand and boardering the Ocean. This doors takes you straight into the Home Gym area and just left of that space is an open area for an optional Home Office. Adjacent to that wall sits a step down dinner area where the wooden floors throughout cuts out into marble for an 8-persons dinning. The Public Restroom & Washer/Dryer section all tuck in neatly behind the glass wall sharing the huge 6-Car Garage Parking perimeter.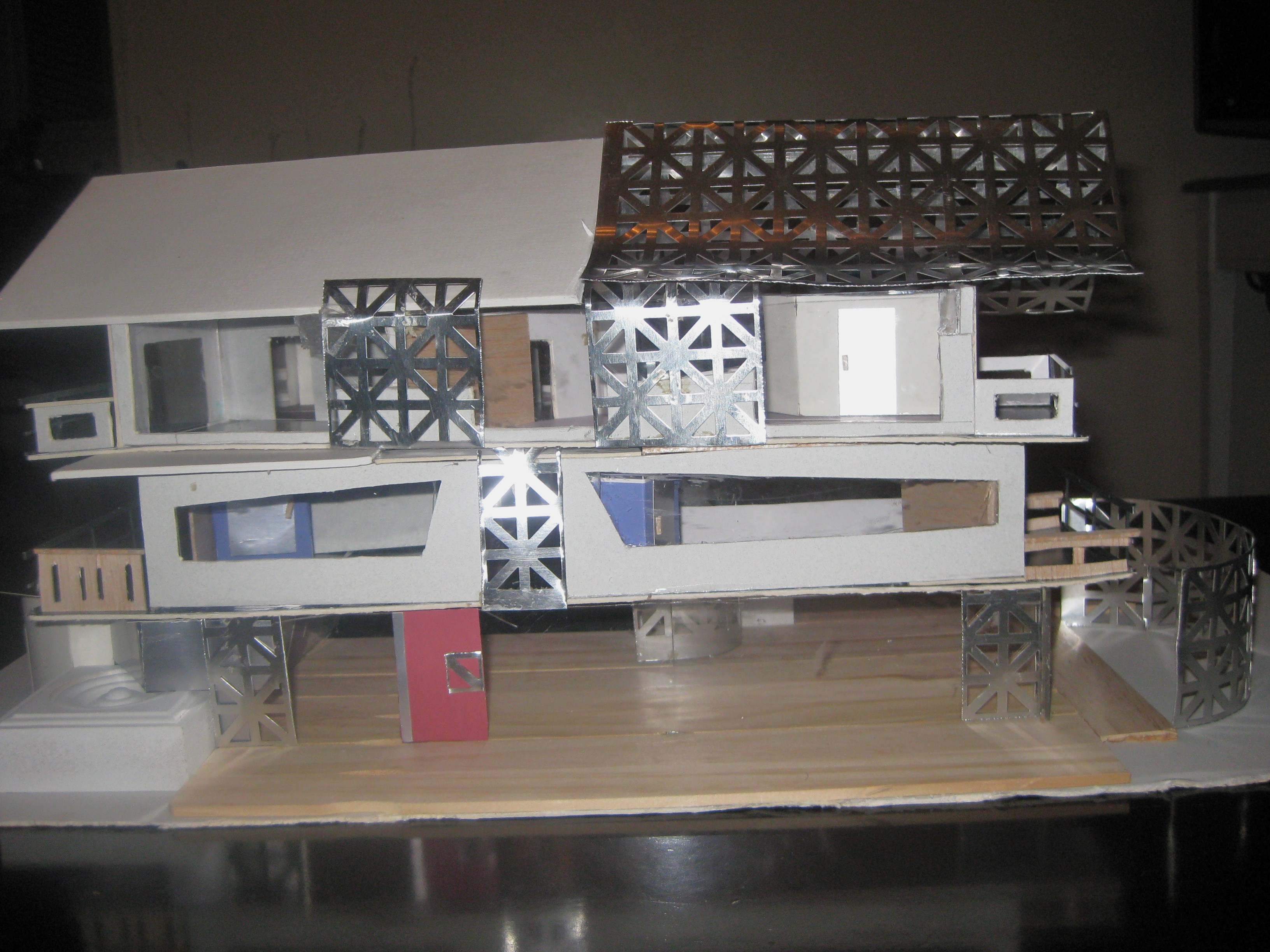 From this side Elevation you can clearly see the 3 floorsand a combination of materials varying on all levels. The First Floor is made up of mainly wooden floors and galss with strips of steel in detailed work hanging over the facade but also posing as a strengthening material to the structure. The Second Floor (Containing the 3 family bedrooms with full baths in each) is mainly concrete and marble floors throughout with hugh glass windows- as the balcony and the doors leading to them are made up of solid wood. The third floor is concrete, with marble floors also throughout (Contsisting of 2 self- contained Guest Apartments- 1 has it's own Home Office, the other Storage Area)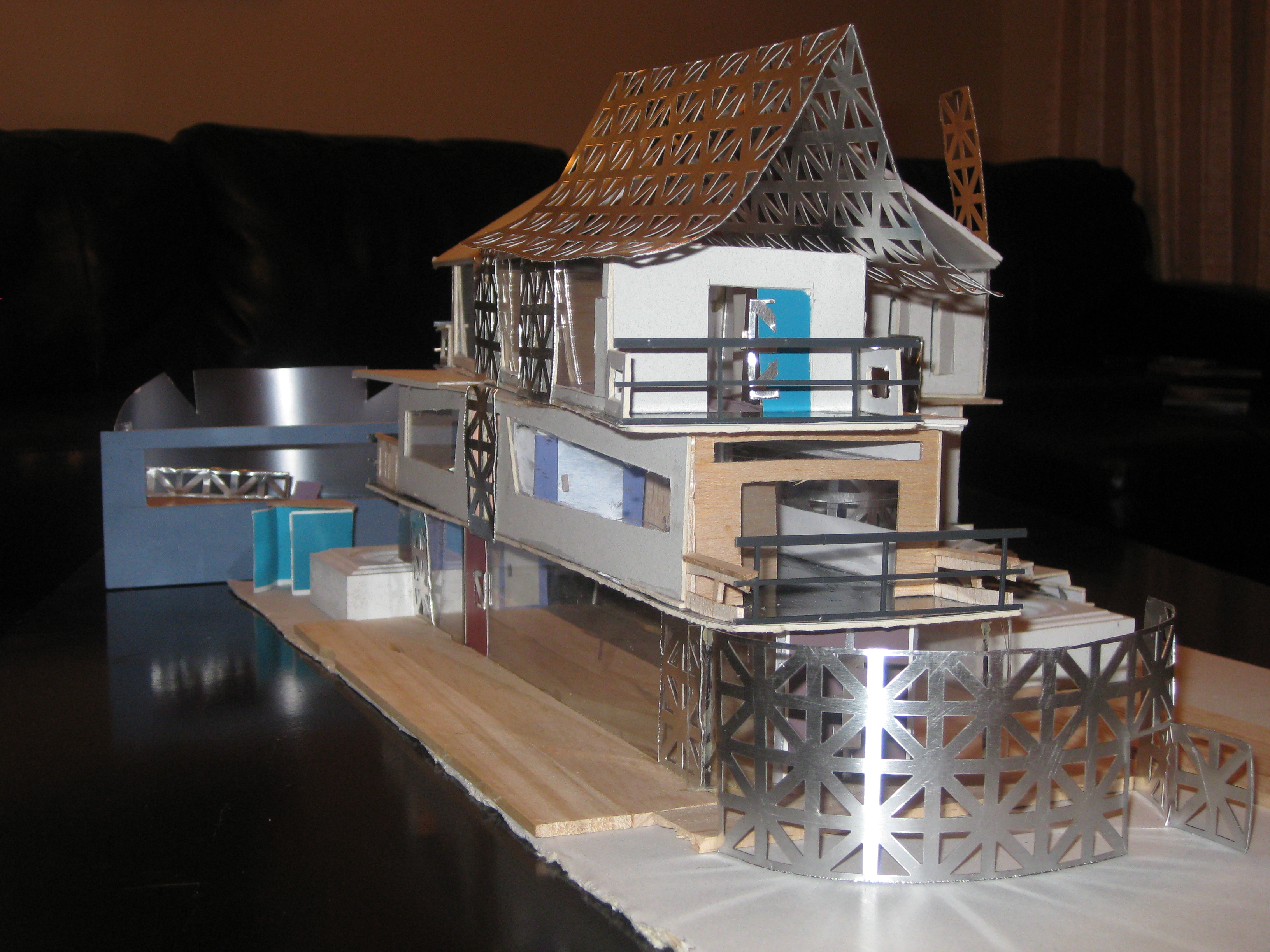 Just a simple Front Elevation view- showing the gated entrance that lays opened to those on the galery area to enter through both sides, but also has it's own royal metalic swing gate it's entrees. At this view the Private Pool to the rear end is also seen.
Of course the Rear View- showing the contours of the garage to the likes of an Igloo, matching the roundness to the Front of the elevator shaft and the Front Entrance fencing. Just a little play on shapes... The tiny little teal hut is the outdoor shower for beach-goers. At an almost bird's-eye-view you can get another sense of the Mansions' rotation and my take to be a bit daring in exploring a slightly unusual shape.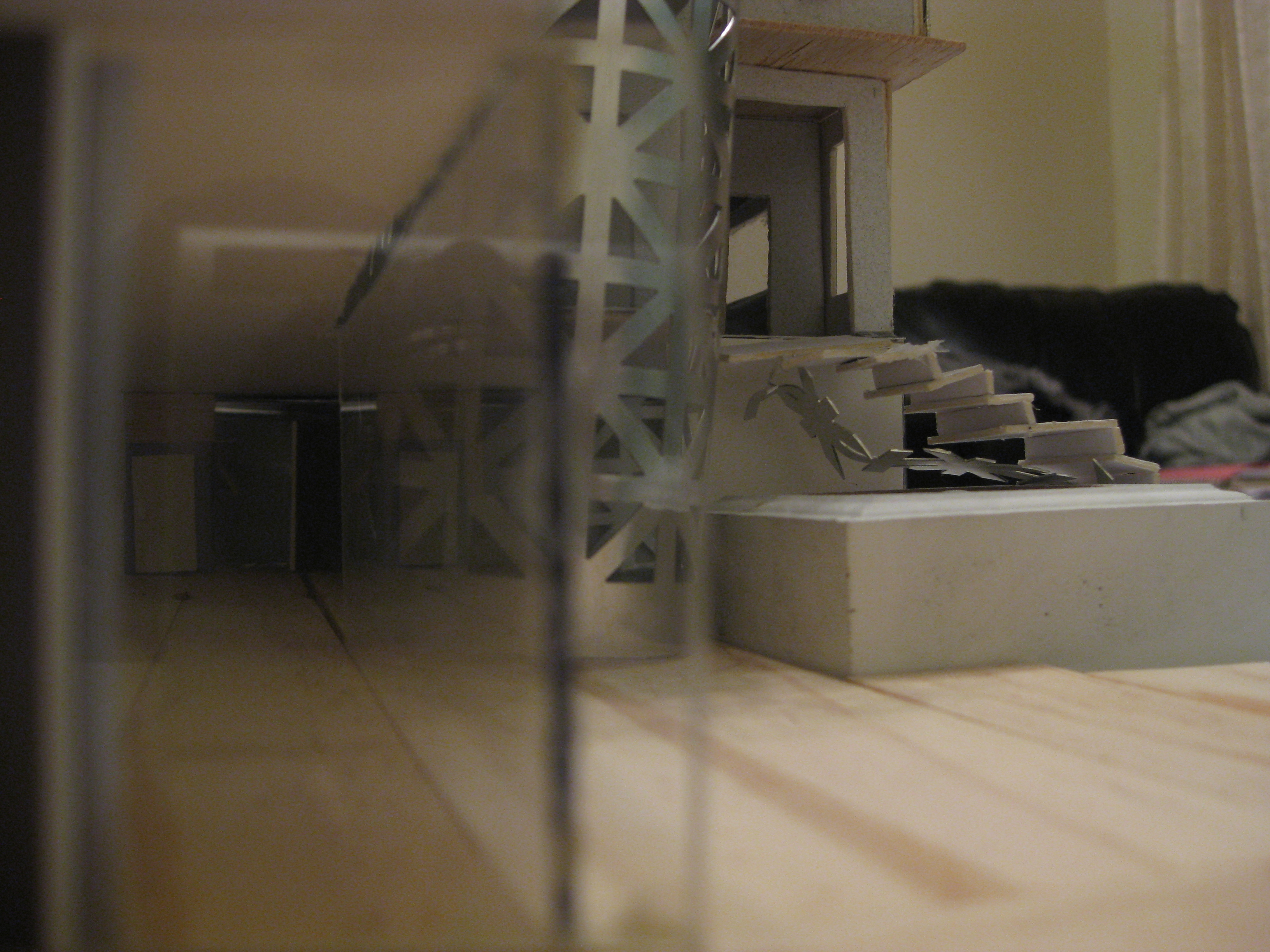 Here's a shot taken from the right corner of the Front Entrance that takes the eye on a far stretch of the flooring throughout towards the see-through garage at the other end. Just image seeing your Lamborghini's and Jaguars parked just behind your Home Gym ..... Simply georgous!!!
** For addition images click here: **